Disconnect and Reconnect Mode allows the TireMinder® TPMS to stop monitoring either the top or bottom section of the display. An example of disconnecting would be if you monitored both a truck and a 5th Wheel Trailer and wanted to drive off from the 5th Wheel. You can simply disconnect the 5th Wheel's portion and not have to worry about receiving alerts because you are not near the 5th Wheel. Another example would be if you monitored both a Motorhome and tow vehicle and wanted to drive away from the Motorhome while still monitoring your tow vehicle. You can simply disconnect the Motorhome and continue monitoring the tow car without receiving alert notifications.
How to Disconnect and Reconnect Sections of your TireMinder® TPMS.
Touch the ellipse ( ⋮ ) on the top right corner of the screen to bring up the main menu.
Touch the button labeled "Disconnect".
From here, touch on the section you want to disconnect. Touching the top section disconnects the top, touching the bottom section disconnects the bottom. Click the Home button to confirm selection.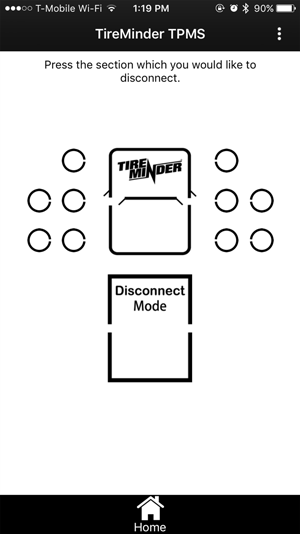 Reconnect a Section
To reconnect a section, touch the section you wish to reconnect and it will reappear. Press Home to confirm.