The monitor should be partially charged so you may start programming right away. Press and release the TOP BUTTON to turn it on.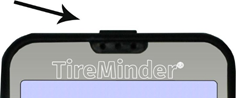 If the unit does not light up immediately, simply plug it into a live 12 volt power outlet using the cigarette lighter adaptor or the USB cable to any USB port. You may work with the unit while it is charging or after 15 to 20 minutes it will have sufficient power to do a complete installation without it being plugged in.
See page 35 & 36 for more charging details.