Hexagonal Locking Nut Instructions
Note: Only use the locking rings when your vehicle is going to be in a static, high risk area.
1. Fasten hex nut clockwise onto valve stem. Nut must be positioned at least 1/4" (6.35mm) from top of valve stem.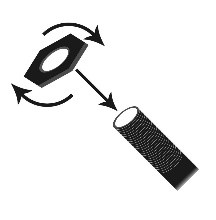 2. Fasten transmitter onto valve stem until hand tight.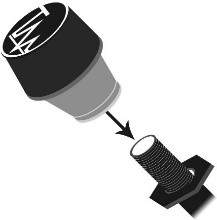 3. Rotate hex nut counter-clockwise towards the transmitter. Use wrench to tighten hex nut against transmitter.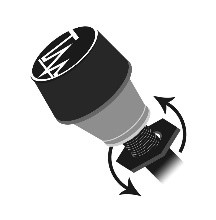 O-Rings
Transmitter O-rings will also need to be replaced at some point. Their life varies greatly depending mostly on climate conditions. If you are not sure of their condition, consider changing them annually when you replace your batteries. Contact Minder Research (phone or web site to order). We can replace them at minimal expense. Please do not try to find them at Home Depot or Lowe's. They will cost you more and will not be the right size. We know as we have tried!
Transmitter Caps
The TireMinder® caps are a crucial piece of the transmitter. The cap, along with the O-rings, keeps the transmitter away from any weather and environmental damage. Like the O-ring, their life depends mostly on climate conditions. The caps should be checked frequently. If one becomes broken or cracked, it should be replaced as soon as possible. Remember, caps are significantly cheaper than replacing a whole transmitter!