Please use the following instructions to setup the TempMinder 4-Zone Temperature and Humidity Monitoring System (MRI-333MX). Alternatively, please see the following YouTube video below.
Insert the stand into the bottom of the monitor.
Remove battery cover and insert 2 "AAA" batteries. Once the batteries are inserted, you have 3 minutes to complete steps 3 and 4. Don't worry if you run out of time. It's easy to start over!
Remove back cover of each white remote transmitter.
Confirm each remote sensor is set to a different channel (1, 2 or 3), then install 2 "AA" batteries into each transmitter.
Once the batteries are inserted into the remote transmitters, the red light will turn on. Once the red light disappears, the temperature and humidity reading of that transmitter will be displayed on the monitor.
Use the CF button to toggle between your desired unit of temperature (°F or °C).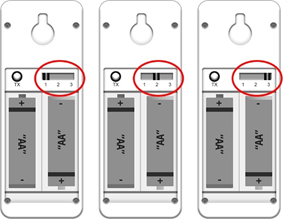 Installation Video