Yes, the TireMinder Lite app (link below) does support CarPlay.
Link: www.tireminder.com/app
How can I use Apple CarPlay?
Please see the following requirements that must be met in order to use CarPlay:
A compatible vehicle or 3rd party receiver that is compatible with Apple CarPlay. A list of compatible vehicles can be found here: https://www.apple.com/ios/carplay/available-models/
A TireMinder Bluetooth Adapter:

Install the TireMinder Lite app version 2.0 or higher from the Apple App Store
Open the TireMinder Lite app and complete setup. The app must be completely setup prior to using CarPlay.
Navigate to the app on your CarPlay system:
Once open, you will now see the following display:
In Use Image: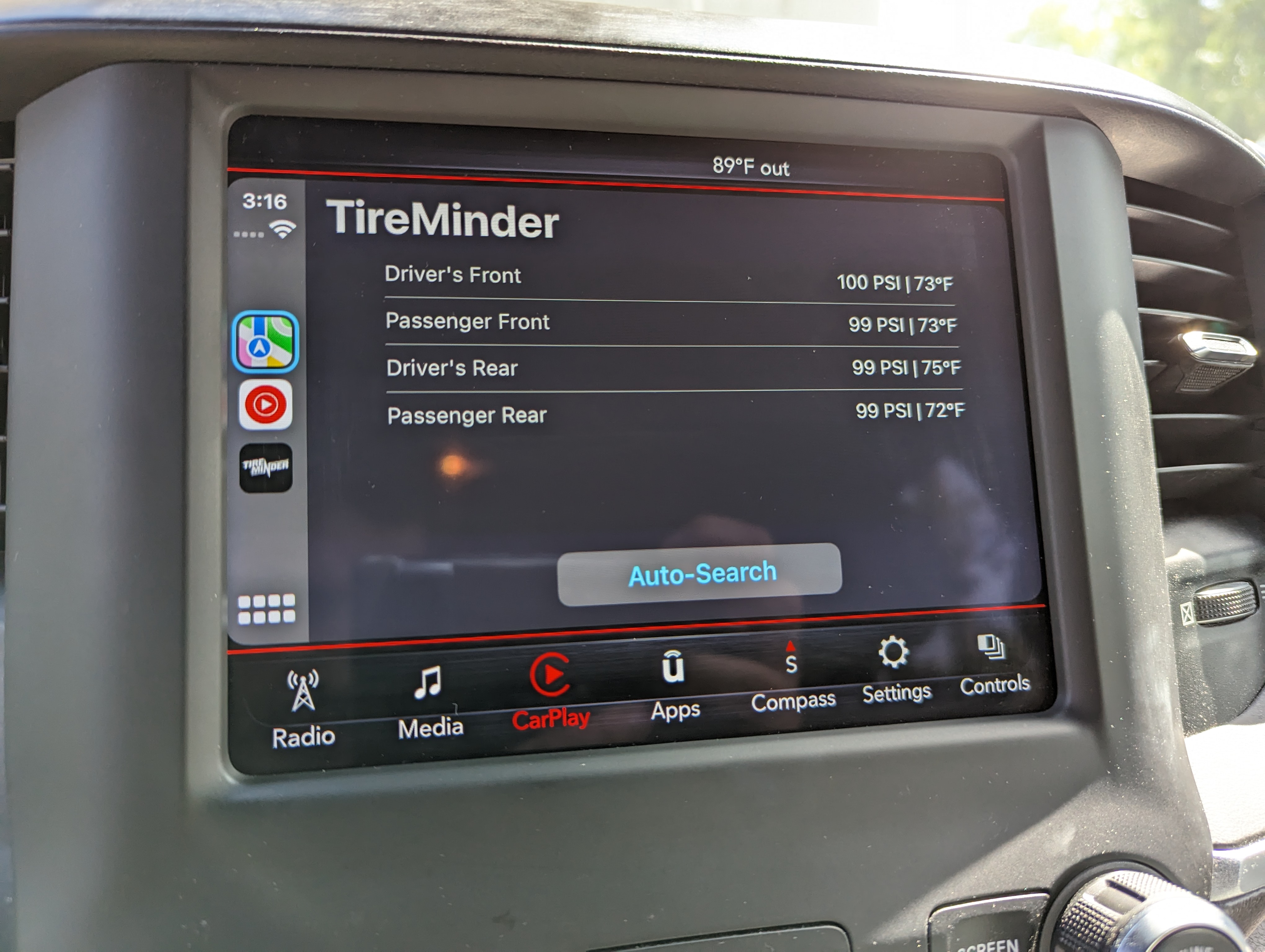 Frequently Asked Questions
Q: Why does the CarPlay app not look like the regular TireMinder Lite app?
A: Our CarPlay version follows Apple's User Interface Guidelines for CarPlay to ensure driver safety and usability.
Q: I do not have a TireMinder Bluetooth Adapter. Can one be added to my current TireMinder system?
A: Yes, you can purchase a TireMinder Bluetooth Adapter here: https://www.minderresearch.com/product/tireminder-smart-tpms-bluetooth-adapter/. This adapter is compatible with the following TireMinder models: A1A, A1AS, i10, TM-77, and TM-88C. If you have a model that is not listed, you will need the following upgrade kit: https://www.minderresearch.com/product/tiremindertireminder-smart-tpms-smartphone-based-tire-pressure-monitor-for-rvs/
Q: I don't see all of my tire information on my vehicle's display, but I see them in the TireMinder App. Why?
A: If you are monitoring a spare tire position on your TireMinder App, this would prevent the CarPlay display from properly showing your tire information. A fix for this issue is upcoming.